Set just over an hour from Cape Town, within the inspiring landscapes of the Cape Winelands, Franschhoek is a heritage town and a world-renowned food and wine destination. Travellers could choose to focus their visit on any one aspect alone - nature, cuisine or culture - and find plenty to keep them busy. The estates here attract wine experts from around the globe with their Shiraz, Cabernet Sauvignon, and Cap Classique sparkling wine (among others). Five-star restaurants alongside the cellars are surrounded by the same jaw-dropping valley scenes that have brought artists and writers to the area for centuries. A superb literary festival takes place around May every year, and, combined with the town's Cape Dutch manor houses, fascinating museums, and charming boutiques, makes Franschhoek a wonderful place to visit in winter. Summer provides endless hiking, cycling and other outdoor opportunities among the lush farmlands and mountains.
Roundtrip Airfare New York-Cape Town

7 nights' accommodation

Meals: Breakfast daily, 2 lunches, 1 dinner, wine tastingss

All tours, entrance fees, tour guide, A/C vehicles
Travel documents

Tips and gratuities

Other meals not mentioned in itinerary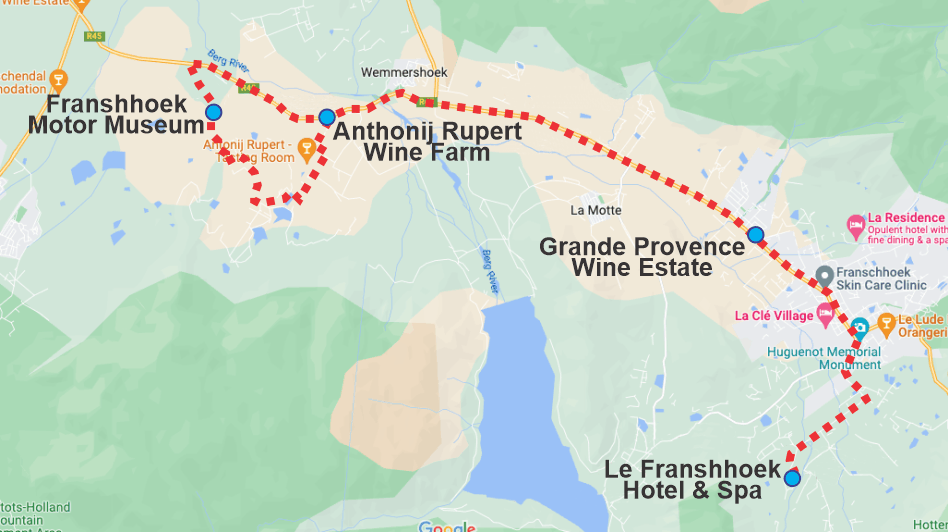 On arrival at Cape Town Airport, you will be met and assisted by our representative who will drive you to your hotel Franschhoek for check in. Rest of the day at leisure.
Breakfast at the hotel and depart for a day trip in the Cape Winelands Depart for an Anthonij Rupert Exclusive Wine Farm Experience. Take a scenic drive to & from the tasting rooms on the Franschhoek Motor Museum Tram and visit the Franschhoek Motor Museum.  Enjoy an Italian wine tasting with Lunch set menu at the Terra Del Capo tasting room & Antipasti Restaurant. End it all with a Premium Tasting at the Anthonij Rupert Manor House. Afternoon transfer for Nougat and Wine Pairing at Grande Provence, Wine Farm Return to hotel and overnight. [B/L/T]
Day 3: Franschhoek, Aquila Private Game Reserve
Breakfast at the hotel and check out. Transfer to Aquila Game Reserve. On arrival enjoy lunch at the lodge and check in. Depart on the afternoon game drive and have dinner at the lodge. [B/L/D/G]
Day 4: Aquila Private Game Reserve, Cape Town
Morning game drive in the reserve and breakfast at the lodge.  Check out and transfer to Cape Town. Visit the Kirstenbosch Botanical Gardens, home to some 3,500 species of Southern African flora and fauna. Transfer to hotel and check in. Evening at leisure. [B/G]
After breakfast pick up for morning half day Cape Town City and Table Mountain tour. Take a ride up the Table Mountain Aerial Cableway (weather permitting). Tour of the 'Mother City' includes a drive past Houses of Parliament, City Hall, Cape Castle and the Green Market Square. Visit the Bo-Kaap Cape Malay District and Slave Lodge for a cultural experience.  Afternoon visit Mojo Market an exciting 7-day-a-week food and lifestyle market, with daily live music daily & FREE entrance! Vibrant and modern indoor market featuring international food stalls, 4 bars, live music & boutiques. Return to hotel. Rest of evening at leisure. [B]
Day 6: Cape Town Peninsula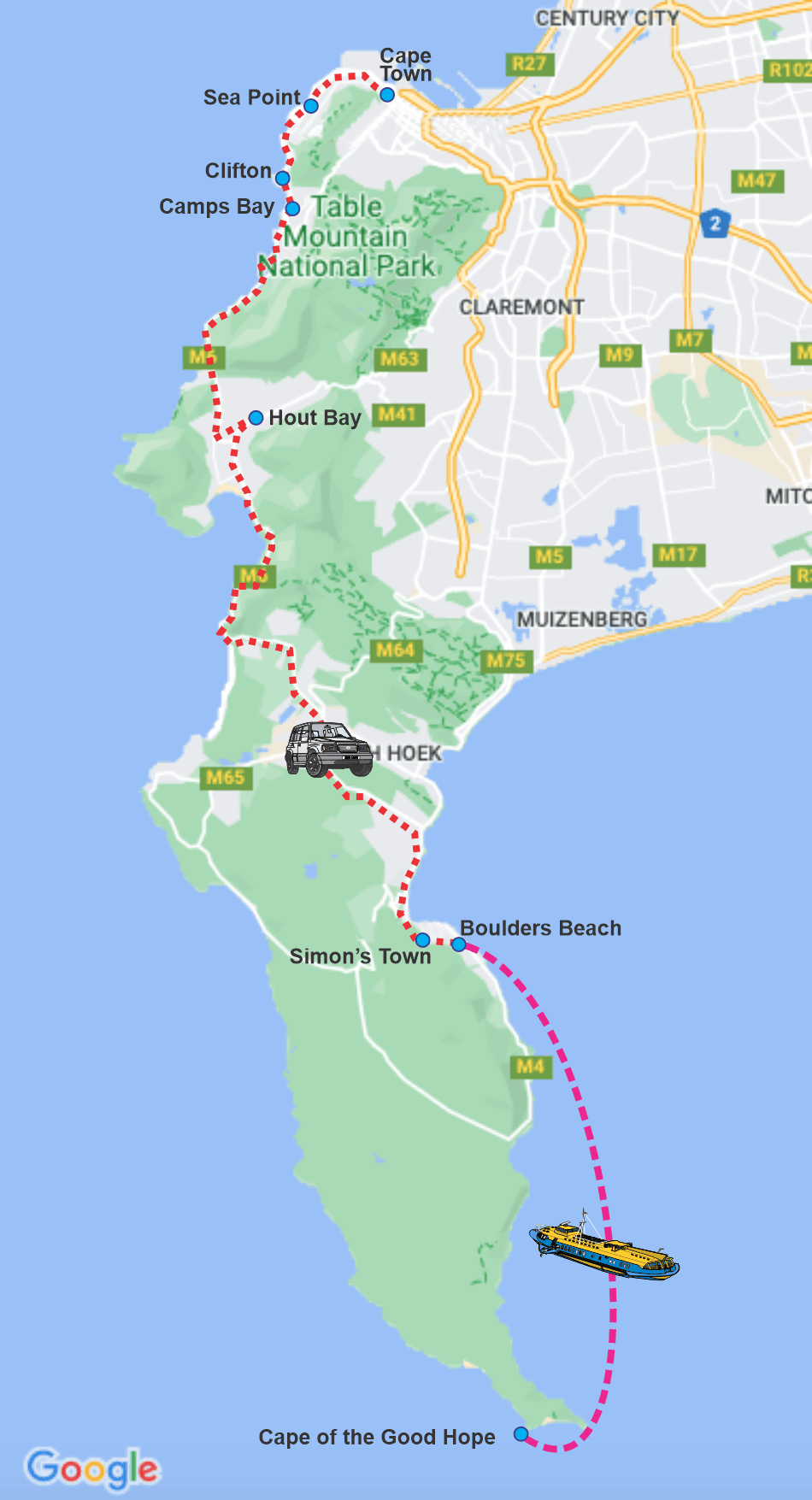 Full day Excursion to the Cape Peninsula: you will drive along the Atlantic Coastline passing the areas called Sea Point, Clifton, and Camps Bay before arriving in Hout Bay, a small fishing village, dominated by the scenic Chapman's Peak Pass. On to Simon's Town and Boulders Beach, home to its own penguin colony. Depart on Seal Island Cruise. Continue to the Cape of Good Hope Nature Reserve, with its 25-mile coastline and which comprises indigenous flora, many species of antelope and abundant birdlife. At the most southerly tip of the reserve, you can climb to the lighthouse and enjoy the view of the meeting of Indian and Atlantic Oceans. Return to hotel. Rest of evening at leisure. [B]
Day 7: Cape Town (Langa, Robben Island)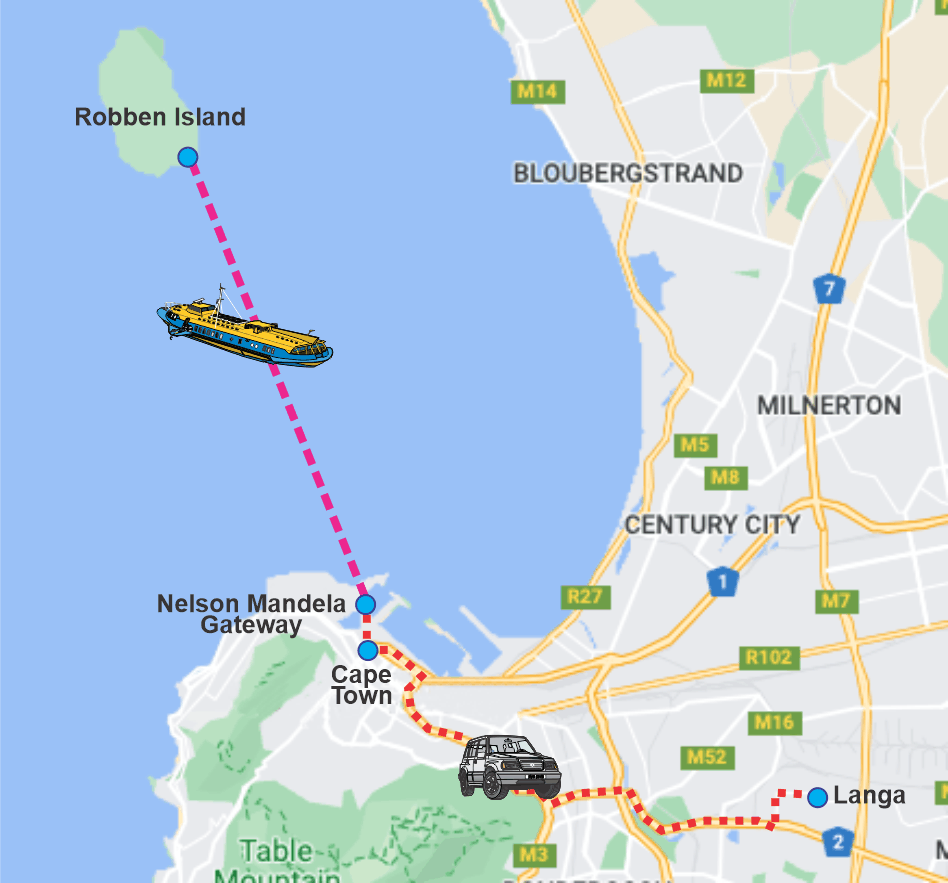 Breakfast at the hotel. Depart on a Cultural day tour. Visit Langa, the oldest Black African Township in Cape Town. Along the way we elaborate on the restrictive legislation introduced by the Apartheid regime to enforce racial segregation. On arrival in Langa, we have a photo stop at the site that commemorates the student uprising of 1976; discuss the Pass Laws and the barracks built for African migrant workers.  While in Langa, we also share the miracle of our country when Nelson Mandela convinced us to forgive so that we can free ourselves. We also offer our groups a greater understanding of Shanty Town that exploded with the massive migration of mothers and children into the cities restoring black dignity at the end of Apartheid.  Afternoon depart with ferry to Robben Island (weather permitting) The standard tour to Robben Island is about 4 hours long with two half hour ferry trips It's recommend to wear comfortable walking shoes, a hat, sunglasses and sun protection cream. At end of tour return to the hotel. Evening at leisure. [B]
Breakfast at the hotel and check out. Transfer to Cape Town Airport for departure flight homebound. [B]
[B] = Breakfast | [B/G] = Breakfast & Game run | [B/L/T] = Breakfast, Lunch & Wine tasting |
[B/L/D/G] = Breakfast, Lunch, Dinner & Game run
11
Cape Town
Maximum booking:
20 tickets
General price:
Adult (18+ years)
$

3295.00 / ticket
Options
guests <= 2

Price

Adult (18+ years)

$

3295.00 / ticket

guests <= 1

Price

Adult (18+ years)

$

3795.00 / ticket
25
Cape Town
Maximum booking:
20 tickets
General price:
Adult (18+ years)
$

3295.00 / ticket
Options
guests <= 2

Price

Adult (18+ years)

$

3295.00 / ticket

guests <= 1

Price

Adult (18+ years)

$

3795.00 / ticket
8
Cape Town
Maximum booking:
20 tickets
General price:
Adult (18+ years)
$

3295.00 / ticket
Options
guests <= 2

Price

Adult (18+ years)

$

3295.00 / ticket

guests <= 1

Price

Adult (18+ years)

$

3795.00 / ticket
22
Cape Town
Maximum booking:
20 tickets
General price:
Adult (18+ years)
$

3295.00 / ticket
Options
guests <= 2

Price

Adult (18+ years)

$

3295.00 / ticket

guests <= 1

Price

Adult (18+ years)

$

3795.00 / ticket
11
Cape Town
Maximum booking:
20 tickets
General price:
Adult (18+ years)
$

3295.00 / ticket
Options
guests <= 2

Price

Adult (18+ years)

$

3295.00 / ticket

guests <= 1

Price

Adult (18+ years)

$

3795.00 / ticket
25
Cape Town
Maximum booking:
20 tickets
General price:
Adult (18+ years)
$

3295.00 / ticket
Options
guests <= 2

Price

Adult (18+ years)

$

3295.00 / ticket

guests <= 1

Price

Adult (18+ years)

$

3795.00 / ticket
8
Cape Town
Maximum booking:
20 tickets
General price:
Adult (18+ years)
$

3295.00 / ticket
Options
guests <= 2

Price

Adult (18+ years)

$

3295.00 / ticket

guests <= 1

Price

Adult (18+ years)

$

3795.00 / ticket
22
Cape Town
Maximum booking:
20 tickets
General price:
Adult (18+ years)
$

3295.00 / ticket
Options
guests <= 2

Price

Adult (18+ years)

$

3295.00 / ticket

guests <= 1

Price

Adult (18+ years)

$

3795.00 / ticket